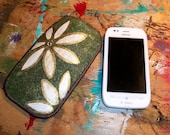 This cell cozy is padded with very heavy duty interfacing. It fit's the new Windows 7 or Blackberry phones. (Galaxy SII, Iphone cover not shown.) You can custom this cozy to feature your area code.
I use metallic inks for all numbering embellishments.
Click Here to Visit My Etsy Shop!